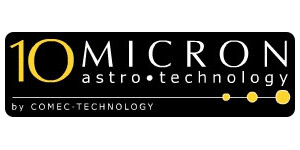 Highest precision – for your astronomical future! 10Micron mounts are the first choice for demanding astrophotographers and observatories.
A special feature of 10Micron is the high precision and speed (HPS) technology. HPS mounts have a conventional worm gear with servo motors, an arrangement that has been proven for decades. However, in addition to the motor encoders, high-precision absolute encoders calibrated with over 10 million measuring points are installed directly in the right ascension and declination axes. The combination of two electronic control circuits per axis makes the classic worm gear just as precise as a direct drive assembly, but also has all the advantages of the classic design: self-locking gear, high holding power even with changing loads, quick installation, easy handling.
10Micron: made in Italy!