Product series: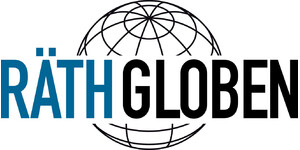 RÄTHGLOBEN, the cartographic publisher founded in 1917 by Paul Räth, has preserved the traditional art of globe making. Even today, they still produce globes there crafted by hand.
More information about RÄTHGLOBEN 1917
Over its long history, Räthgloben 1917 Verlag has sold hundreds of thousands of globes of the highest cartographic and aesthetic quality on all continents. Paul Räth, the founder of the company, was a man who knew very well that education is closely connected with images. The image of our Earth as a sphere, as a globe, was one of the first principles of the modern world view.
The traditional Leipzig company has survived crises, war, the socialist planned economy, and privatisation - even if each event harshly left its mark - which speaks volumes for the soundness of its products. Since 1999, the controlling interest in Räthgloben 1917 Verlag has been held by the Italian group Tecnodidattica S.p.A. and Nova Rico S.p.A., which volume-produces globes in Genoa and Florence. Hand-finished globes, made using precision craftsmanship, still justify the title "quality from Leipzig". But also the wide range of inexpensive globes explains the company's success today. In order to be able to meet this demand in the long term, production has been carried out in newly built factory buildings since the summer of 2001, where the floor space even had to be doubled in January 2005.
Two globes from Paul Räth's workshop are shown today as first-class exhibits in museums: possibly the first globe illuminated with electric light from 1921 is exhibited in the Vienna National Library's globe museum. Since 1925, the Munich German Museum's collection has been adorned with a 64 cm diameter globe with hand-finished surface relief, originally made for Norddeutschen Lloyd's luxury cruise liners.