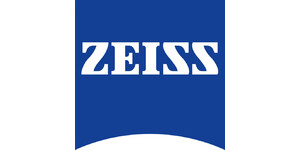 ZEISS – A name that stands for the highest quality
ZEISS has produced optics at the absolute high-end of the range since the middle of the 19th century. The highest precision and most thorough quality control have always been part of ZEISS'corporate policy. ZEISS specialized in the production of microscopes in their early years. With the help of physicist Prof. Ernst Abbe, ZEISS produced optics of unrivalled excellence – of a standard never seen before. ZEISS also set quality standards in amateur and professional astronomical telescope production.
More about ZEISS
Moritz Carl Hensoldt founded his company in 1852 as an optical workshop which initially built terrestrial telescopes, astronomical devices and microscopes. 1897 saw the production of Hensoldt's first roof prism binoculars – an image inverting system consisting of a right-angle prism with attached pentaprism with a 'roof edge' - and further developments in the field of binoculars and telescopic sights followed. The range of innovations include:
1897 Moritz Carl Hensoldt launches the world's first binoculars with roof prisms - the Penta 7x29 model A
1902 The first riflescope with erecting prism, by the name of Solar, was presented by M. Hensoldt & Söhne
1903 the first binoculars by the name of Dialyt appears - a 6x26, which was sold with great success all over the world. This was the birth of the brand name Dialyt.
Hensoldt binoculars became world-famous under this trademark, and has remained so to this day - just like the "Diavari" trademark for riflescopes with variable magnification, which first appeared in 1954.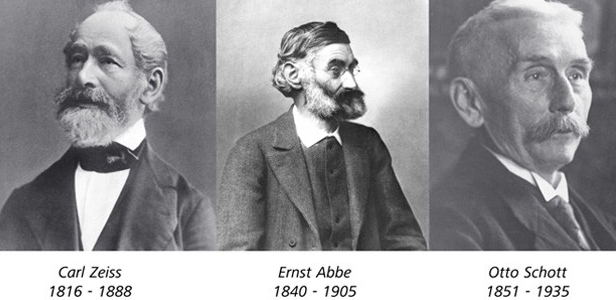 M. Hensoldt & Söhne became a public company in 1922 and changed its name to M. Hensoldt & Söhne Optik Werke AG. Hensoldt AG has been part of the Carl ZEISS Group since 1928, and has been manufacturing ZEISS binoculars and riflescopes since 1964. Since 1 October 2006, the company has been operating under the name Carl ZEISS Sports Optics GmbH.
To this day, it is a leading company in the precision mechanics and optics industry. Certified according to DIN/ISO 9001, Carl ZEISS Sports Optics GmbH manufactures not only binoculars and riflescopes, but also optics for the industrial sector. Carl ZEISS Sports Optics GmbH is also very important as an employer and provider of apprenticeship training in the Wetzlar region. After all, it offers around 450 employees a secure job. Additionally, around 35 apprentices are trained.
Manufacturing expertise in optics

Optics produced by Carl ZEISS Sports Optics GmbH are world-renowned for their quality and precision. The narrowest tolerances with large production runs - in the 1 arc-second range for planar optics and nanometre range for spherical optics - require highly competent employees and special production techniques.

Modern CNC machines are mainly used, alongside classical methods. For example, mouldings on the production line produce round optics that are already finished on both sides. The machines used here are equipped with automatic feeder and turning mechanisms, and perform the grinding, polishing, centering and faceting processes. Here, the surface roughness after polishing is less than 0.7nm.
Mechanical manufacturing expertise
Production assembly expertise, cutting-edge machines and the highest precision characterize mechanical production at Carl ZEISS Sports Optics GmbH. In addition to 5-axis milling machines and 4-axis lathes, the machine park also includes wire erosion machines for the fine processing of workpieces. Tolerances of between 4μm and20 μm are quite 'normal' for our production of mechanical parts made of steel, aluminium alloys and titanium, as well as angular accuracies of 8" or less.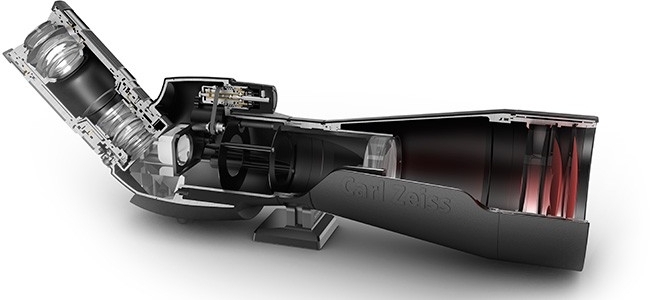 State-of-the-art working conditions and techniques as well as qualified employees guarantee consistently high quality. For example, all Carl ZEISS Sports Optics GmbH assembly areas are operated under clean room conditions. Both cleanliness and precision are of paramount importance. Binocular and riflescope assembly is divided into several assembly teams, which include the pre- and final assembly and the embedded quality assurance testing.
(ZEISS Victory Diascope in cross section)