Glossary | Telescopes | General | Series | StarSense Explorer
These telescopes show beginners the sky via smartphone app.

With telescopes from the StarSense Explorer series, you will easily find the best observation objects in the sky - with no need for a star chart!
Simply insert your smartphone into the special telescope holder, launch the free StarSense Explorer app, and the app will guide you to planets, double stars, the Orion Nebula, the Andromeda Galaxy and other fascinating objects.
StarSense Explorer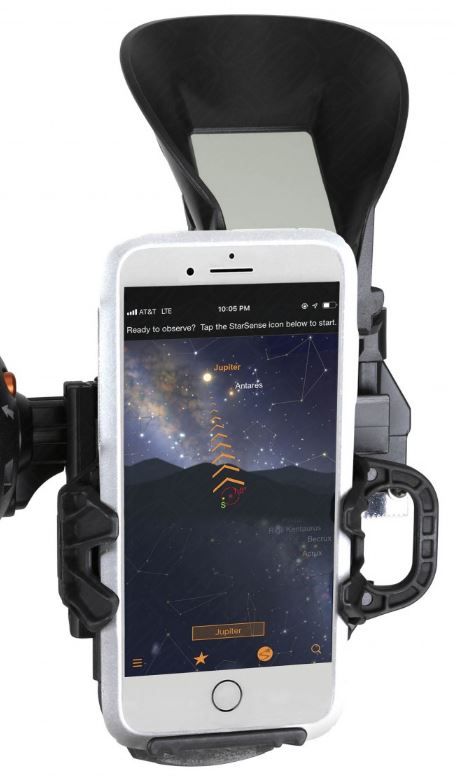 StarSense Explorer is a free app for Android and iOS operating systems. It uses the camera and other technology incorporated within the smartphone to align the telescope with the night sky. For this purpose, the telescope requires a special holder with a mirror system, as seen in the picture.
Once initialized, the app displays the direction in which the telescope is pointing. Using arrows, it directs you to the most beautiful objects (PushTo). In this way, beginners can find their way around, even under a light-polluted city sky.
The StarSense Explorer app also generates a list of currently visible objects to help you select your cosmic destinations: planets, brighter nebulae and galaxies, star clusters and double stars.
While observing, the smartphone does not need network access. It also does not have to be connected to the telescope via a WLAN or Bluetooth.
StarBright XLT

A very important factor in evaluating the performance of telescopes is transmission, that is the proportion of incident light that arrives at the image plane.
The main characteristics of the StarBright®-XLT coating are as follows:
Highly reflective multi-layer mirror coating: the mirror coatings consist of precisely applied layers of aluminium, quartz, titanium dioxide and more quartz. The reflectivity is constant across the spectrum, and the three layers of coating provide excellent protection against the ageing of the mirror surface.
Corrector plate: crystal-clear glass instead of soda lime glass is used for the corrector plate in all Celestron Schmidt-Cassegrain optics with StarBright-XLT coating. Uncoated, this glass delivers approximately 90.5% transmission. Together with the StarBright®-XLT coating, its transmission reaches 97.4%!
The entire optical system consisting the corrector plate, mirror and lenses achieve a transmission maximum of 89% at 520 nanometres (where the dark-adjusted human eye has its highest light sensitivity). The average transmission over the entire visual spectrum from 400 to 750 nanometres is 83.5%.