Product series:

The story of one of the most successful telescope series continues: with the NexStar Evolution, Celestron makes the next step in the development of its transportable NexStar telescopes.
The further-improved mount can now also be controlled wirelessly with its own specially developed smartphone app.
Celestron has remained true to its tried and tested SC optics - and that's a good thing too!
StarBright XLT

A very important factor in evaluating the performance of telescopes is transmission, that is the proportion of incident light that arrives at the image plane.
The main characteristics of the StarBright®-XLT coating are as follows:
Highly reflective multi-layer mirror coating: the mirror coatings consist of precisely applied layers of aluminium, quartz, titanium dioxide and more quartz. The reflectivity is constant across the spectrum, and the three layers of coating provide excellent protection against the ageing of the mirror surfaces
Corrector plate: water white glass instead of soda lime glass is used for the corrector plate in all Celestron Schmidt-Cassegrain optics with StarBright-XLT coating. Uncoated, this glass delivers approximately 90.5% transmission. Together with the StarBright®-XLT coating, its transmission reaches 97.4%!
The entire optical system consisting the corrector plate, mirror and lenses achieve a transmission maximum of 89% at 520 nanometres (where the dark-adjusted human eye has its highest light sensitivity). The average transmission over the entire visual spectrum from 400 to 750 nanometres is 83.5%.
SkyAlign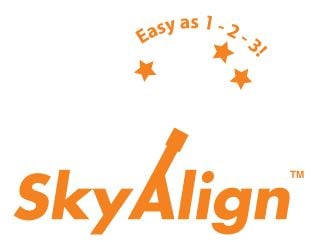 Simply enter the date, time and location into the hand-held controller (GPS models determine this information automatically), and point at three bright stars of your choice. You don't even need to know the names of the stars, and you can even choose bright planets or the Moon. The NexStar computer system identifies these stars and correctly aligns the telescope.
The NexStar controller also allows other alignment procedures, such as using just one star - however you need to know its name - or a single planet.
All these procedures are not only very easy for a beginner to master, they also allow the control to be set-up at dusk, when even experienced astronomers may not be able to name the first stars with confidence.