It all started with the NexStar Evolution: Celestron had this telescope series equipped with WIFI. This enables you to connect your tablet or smartphone with the telescope. This not only gives you the opportunity to control your telescope without cables, you can also utilize all functionalities of the free-of-charge App Celestron SkyPortal: Your display screen uses an appealing planetarium view to show the current view of the sky and provides you with a lot of background information. The most popular objects are available as images and even an Auto-Guide (in English).
Celestron now offers this technology also for reasonable starter telescopes. At present this series Astro Fi consists of four different instruments:
Newton telescope N 130/650 AZ GoTo Astro Fi 130
Refractor N 90/910 AZ GoTo Astro Fi 90
Maksutov telescope MC 102/1325 AZ GoTo Astro Fi 102
Schmidt-Cassegrain telescope SC 127/1250 AZ GoTo Astro Fi 5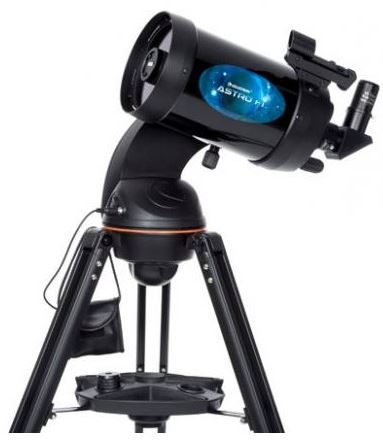 Our tip: The Astro Fi telescope with SC optics.
The model Astro Fi 5 mentioned last is particularly interesting. With its aperture of 5 inches it is already relatively fast. However, the telescope is very compact and thus only has a minor leverage effect on the tripod. The closed tube protects the main mirror against contamination. Moreover, SC optics show a high adjustment stability. Despite their compact design and the high focal length, SC optics are highly suitable for taking photos of moon and planets – a well suited camera is the NexImage 5.
As already described before, all four Astro Fi telescopes generate a WIFI for the control via the SkyPortal App. In contrast to the NexStar Evolution, Celestron delivers the Astro Fi without an additional manual control box.
Just like the bigger Celestron telescopes, the Astro Fi also come with the SkyAlign technology. This is a particularly simple technique for aligning the computer control to the actual night sky and your station. At the beginning of your stargazing session you must align the telescope to three bright celestial objects, that is all. The telescope uses the angles between the objects and the GPS-data from the smartphone or tablet to calculate the actual view of the sky. After this short procedure you can automatically approach any object that the SkyPortal-App shows you. All you must do, just touch the object on the touchscreen.
The special feature of this SkyAlign method is the fact that you even don't need to know the names of the three bright objects you use for initializing the control. For beginners this is a great help, but it is also a useful feature for experienced stargazers, because at dawn the number of visible stars is often too low to assign the correct names.
The Astro Fi telescopes are equipped with a battery compartment. However, the best power supply method surely is the LiFePO4 powerpack from Celestron.