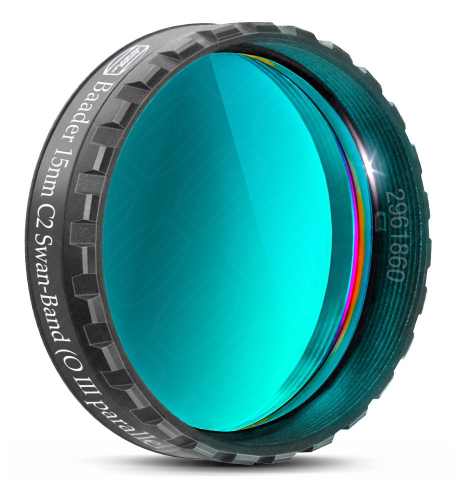 German manufacturer, Baader, has produced a new filter for 511 and 514 nanometre spectral lines which is available to fit both available filter thread sizes:
These Swan Band emission lines, which are named after their discoverer, are produced by carbon. They make up the majority of a comet's gas tail in the visible spectrum. The filter only allows light from these two carbon wavelengths to pass through and blocks the ever-present light pollution. Structures within a comet's gas tail, therefore, become more pronounced even in good observing conditions.
At the same time, it blocks the 501 nanometre OIII spectral lines. This increases contrast and makes it easier to distinguish comets with gas tails from comets with dust tails.
Both C2 Swan Band filters belong to Baader's new CMOS-optimised filters: