We are now introducing the new Signature Series by the camera manufacturer, The Imaging Source. For over 20 years, this company has been making professional cameras, mainly for industrial applications. The company's products are, however, readily used in medical and scientific fields. The cameras meet above-average quality standards.
In 2007, The Imaging Source designed a series of cameras specifically for astronomy applications for the first time. The manufacturer quickly became well-known and popular among amateur astronomers and astro-photographers because the cameras it produced were of excellent quality while being affordable.
In recent years, the brand became quiet in the field of astronomy. Other manufacturers came to the fore and every year new products, due to the rapid and continuous improvement in the digital camera technologies, put older models in the shade. The Imaging Source continued to diligently make astro cameras: The well-known NexImage and Skyris models of the Celestron brand are being made by way of a collaboration between these two companies.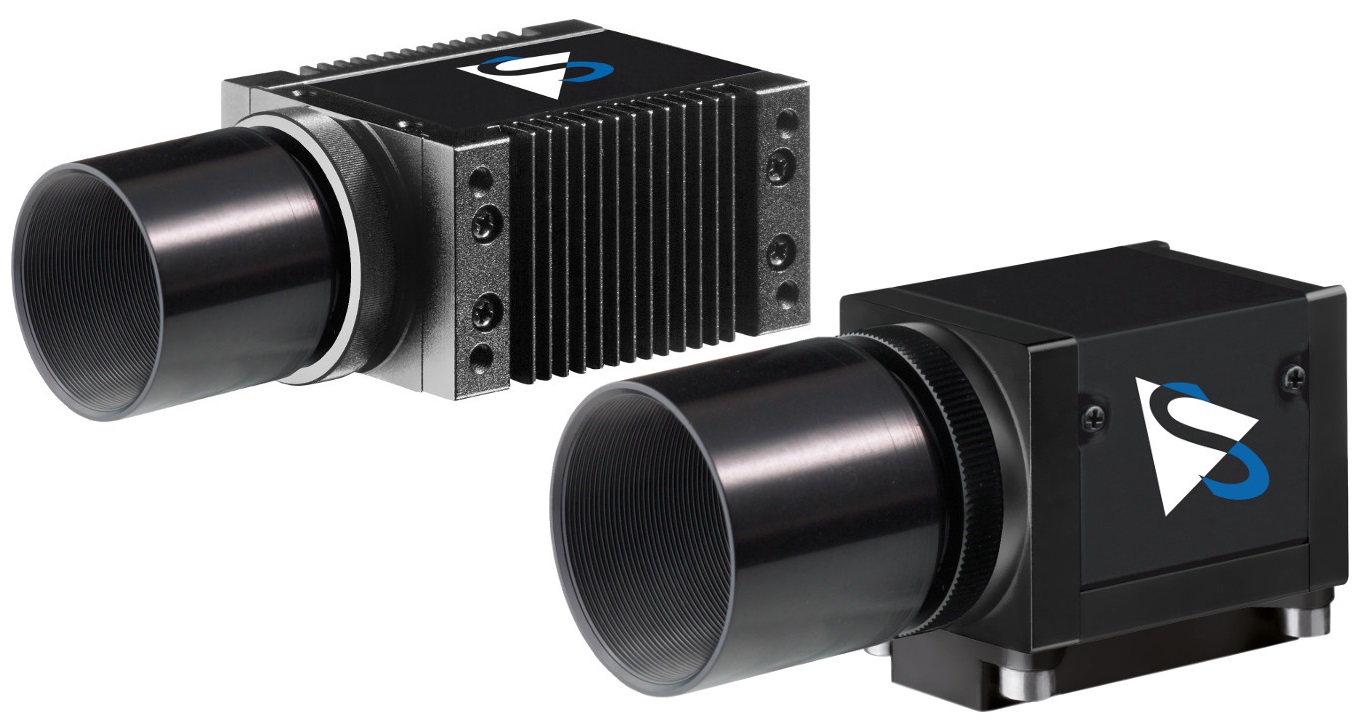 Now, The Imaging Source is, however, finally presenting its own series of astro cameras once more! The Signature Series features outstanding robustness, which is not surprising from a manufacturer that regularly has to meet the high standards of industrial customers. The series is also equipped with state-of-the-art CMOS sensor technology. The old wisdom that you can only use CCD sensors for astronomy has not held for a long time: CMOS sensors now feature low noise and very high sensitivity, so that leading manufacturers are no longer producing CCD chips any more. In the Signature Series, the latest Pregius and STARVIS CMOS chips by Sony have been incorporated.
The cameras are wonderfully suited to planet shots. They deliver high-resolution, uncompressed, low-noise images at high frame rates. This is ideal for lucky imaging techniques to show every planet detail that is caught by your telescope. These cameras are not, however, primarily designed for taking photographs of very faint galaxies and nebulae: Depending on the model, maximum exposure times of only a few seconds are possible.
The range of models in the Signature Series is very extensive, with almost 60 models. This means you buy exactly the camera that is suited to your own needs. It is, however, challenging to keep an overview.
You should know the following:
Each camera is available in three versions: DMK, DBK and DFK. DMK models are monochromatic cameras. Since they do not need Bayer filters (to capture colour information), they are most sensitive to light. The DBK and DFK models are colour cameras. They do, however, have the same structure, including an infra-red filter in DFK cameras. The built-in CMOS sensors are also sensitive to invisible infra-red radiation, but this can be filtered out if necessary. Many amateur astronomers want an infra-red-sensitive camera, however. If this is what you want, too, DBK cameras are right for you.
Furthermore, there are different connections on each model for data transfer: The 33U cameras can be connected to your computer via a USB 3.0 and the 38U cameras can be connected via USB 3.1. For all USB cameras, a USB cable can be used for the power supply. The 33G cameras have a Gigabit Ethernet (GigE) interface. This is particularly widespread in professional image processing applications. For GiGE cameras, you also need an additional power supply, and the power pack required for this is included.
The built-in CMOS chip can be seen on the model description. This determines, for example, the resolution and frame rate of the camera.
The following table can help you to find the right camera: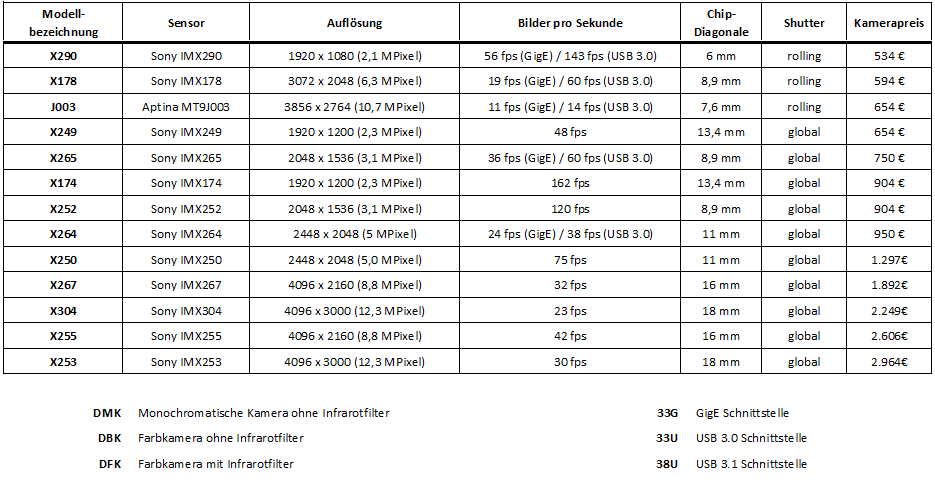 If you are interested in a recently developed and high-quality planet camera, the Signature Series should be on your shortlist.