The Hit Product of the Year 2016:
The Canadian manufacturer NexDome has launched a revolutionary design of observatory domes. The highlight is the modular design with two essential benefits: Low transport costs and easy installation in just a few hours. Never before has a top-class observatory been so affordable!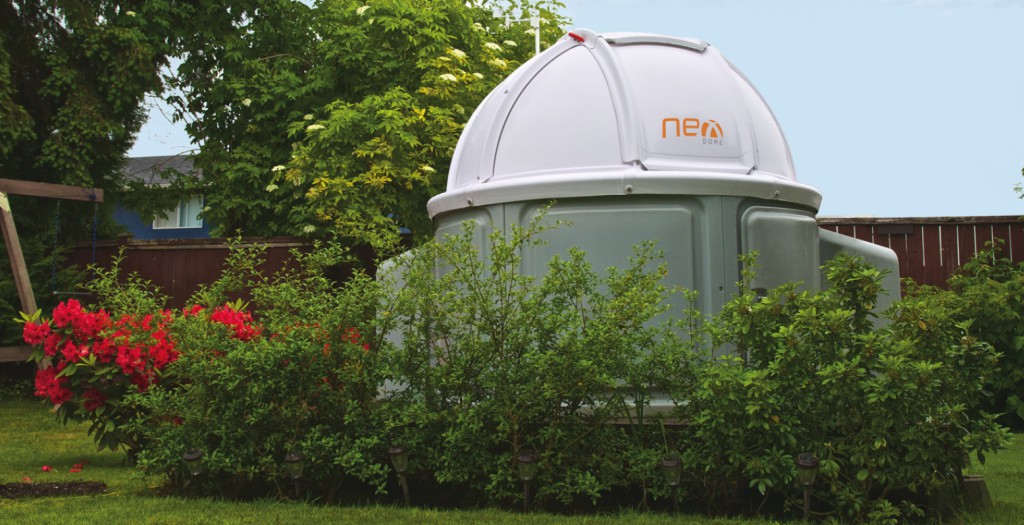 Astroshop.eu is the distributor for NexDome in Europe. From our warehouse, we deliver inside Germany for only 60 Euro and within Europe for just 150 Euro. You can, obviously, also benefit from our consultancy and service of NexDome Observatories.
The advantages at a glance:
The internal diameter of 2.2 meters provides sufficient space for a 14-inch Schmidt-Cassegrain or a refractor with a focal length of 1400 millimetres.
The shutter can be opened far beyond the zenith.
Due to its light weight, being made of ABS-plastic parts, the cupola can be turned by hand, but can also be motorized for a reasonable price. Matching motors and controls are available from us.
You can freely choose the number of nooks for accessories. Up to six of such compartments are possible and provide a lot of storage space!
Should a part of the observatory become damaged, it can be individually replaced at a reasonable price, thanks to the modular design.
The Solarkote® coating protects against UV-radiation and ensures excellent weather resistance of all parts.
–
All ABS-parts are covered by a 5 year warranty! You can find further information about NexDome observatories here at Astroshop.eu.