This digital reflected-light microscope offers really good observing possibilities. The ease of use and the fascinating observation results are absolutely amazing. The tiniest subjects such as minerals, minute creatures, electronic assemblies, coins and much more are reproduced, highly magnified, on the 4.3″ display. Here you get a device that offers lots of fun for a very reasonable price.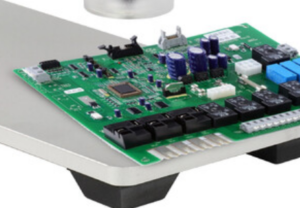 Images can be saved onto an optional SD card and processed on a PC. Even short demo videos are possible. The aluminium stand is of high quality and neatly finished. The actual microscope head with LCD display is raised and lowered using the rack and pinion drive. The closer you lower the LCD head to the sample, the higher the magnification. You can adjust the focus using the control dial under the display. A full magnification of 200x can be achieved manually in this way. If that's still not enough, you can digitally increase this in two steps up to 600x by using the two arrow keys under the display. The eight super-bright LEDs ensure that the sample is perfectly illuminated. Of course, the brightness is infinitely adjustable.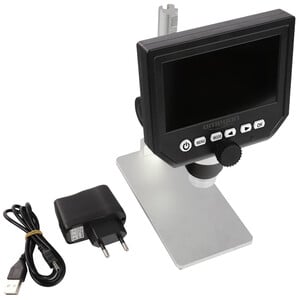 The built-in battery is charged using a power supply plug. The microscope can therefore be used outdoors for many hours, far away from any power source.