Observe nature or the stars with both eyes. It's plastic and fantastic! Soar over the Moon's surface or marvel at animals at the forest's edge. Observing is relaxed and natural with the new Omegon binocular spotting scope with ED optics.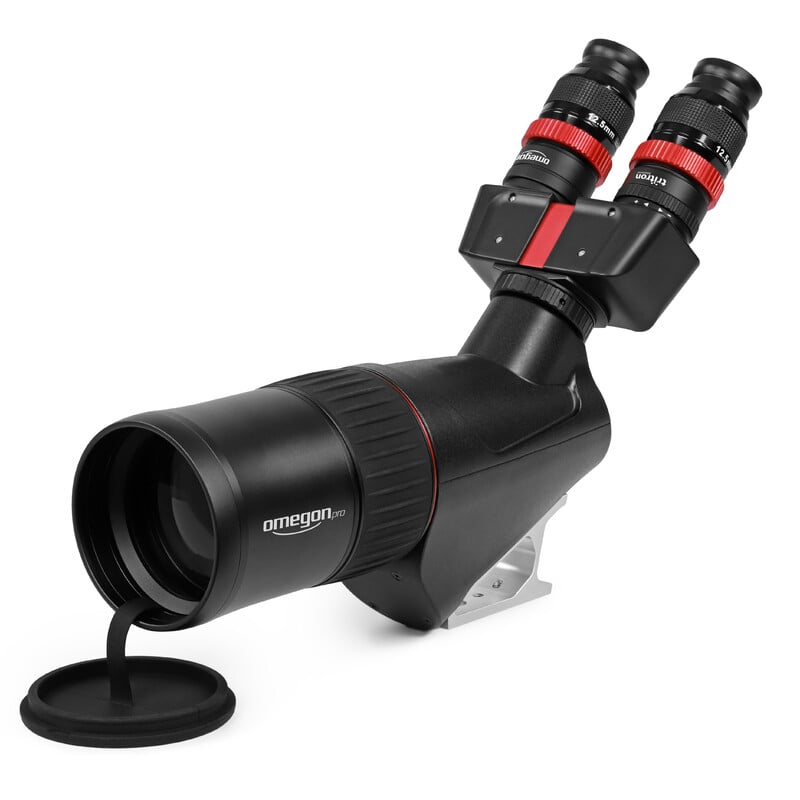 Small and compact, and yet it gathers so much light that observing is clear and rich in contrast – even at dusk. This spotting scope combines two strong winners: multi-coated 80mm ED optics together with new binocular eyepieces with a beam splitter (dielectric) mirror. This gives you brighter and sharper images in daylight, at dusk or at night.
The highlights of this binocular spotting scope:
– Relaxed observing with both eyes
– Comfortable and practical, especially if you are not used to looking through an eyepiece or keeping one eye closed
– 80mm optics for bright images, even in poor light
– High-quality mirror binoculars with 99% reflection: images are bright, sharp and rich in contrast
– New sliding system: easy interpupillary distance adjustment from 58mm to 74mm, perfect for adults and children
– Supplied with 12.5mm LE eyepieces for 40-times magnification and comfortable viewing
– Eyepiece set can be extended at any time with additional 1.25-inch eyepieces
– Sturdy carrying case
Would you like to find out more? Then take a look at the new binocular spotting scope in our shop.