The Star Adventurer from Skywatcher literally is a handy camera mount. For us, a camera mount is an astronomical mount that tracks the rotation of the sky with a photo camera, not with a telescope. This way you will successfully shoot impressive wide field images of the night sky: entire constellations, the belt of the milky way, or atmospheric constellations of the Moon and planets.
A new addition to the Star Adventurer family
The Mini Star Adventurer Wi-Fi from Skywatcheris now available: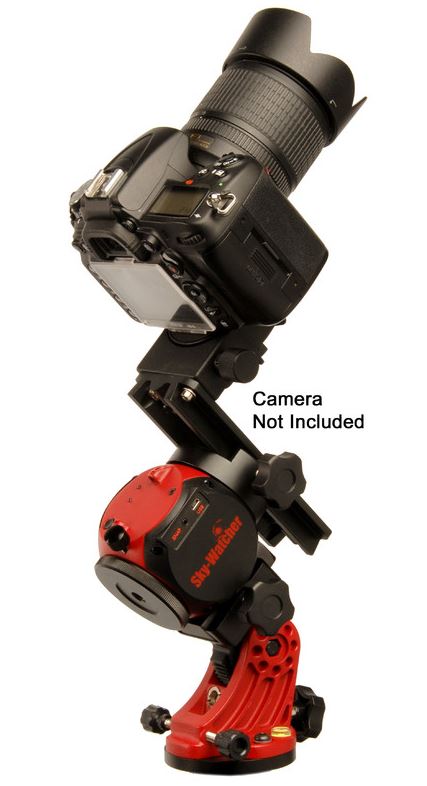 Just like the classic Star Adventurer we also offer this model in two variations: The Photo-Set only consists of the photo mount without any further accessories. This variation is perfect for customers who already have accessories, or want to use the Star Adventurer for applications other than astro photography. The Astro-Set variation comes with everything you need to be able to use the Star Adventurer as an astronomical mount. You only need an additional camera tripod. An excellent solution is the very light Titania 600 from Omegon.
What has changed on the new Star Adventurer?
The Mini Star Adventurer Wi-Fi is no replacement for the classic model. As indicated by its name, the load capacity of the new version is lower. The classic Star Adventurer is able to carry approx. 5 kilogramme; for the Mini Star Adventurer the manufacturer recommends an additional load of maximum 3 kilogramme. This low load gives you the opportunity to operate the Mini Star Adventurer via an integrated powerpack, which is charged via Mini-USB. You no longer need any batteries.
Another major difference is the control via app: The Mini Star Adventurer Wi-Fi generates its own WIFI network. You can wirelessly connect your smartphone or tablet to the camera mount. For this purpose, Skywatcher provides an app for Android and iOS free of charge. The advantage of this app is the fact that no additional manual control is required because you already own a smartphone, including the convenience of the graphical user interface and touchscreen. You can actually use the app to control your camera via the Mini Star Adventurer Wi-Fi and to make a vast variety of settings. This all takes place without touching: no camera movement, no disturbance of the polar alignment.
By the way: With camera mounts like the models of the Star Adventurer series you will also be able to take panorama and time lapse images. Camera mounts are highly versatile tools for ambitious photographers.