The new EQ6-R Pro SynScan GoTo mount from Skywatcher is now available for ordering. With its price of EUR 1,599 it is just slightly more expensive than its predecessor. We offer you the EQ6-R even cheaper than the price recommended by the manufacturer: You save EUR 100!
The EQ6-R mount is the further development of one of the most popular astronomical mounts. The classic EQ-6is an equatorial mount with computer control (GoTo). It has a high load capacity, but is still portable. And this all for a fair price. No wonder that the EQ6 has really found its way into the heart of the stargazer community.
"Only those who change remain true to themselves." (Wolf Biermann)
The new EQ6-R does not do everything differently, but many things better: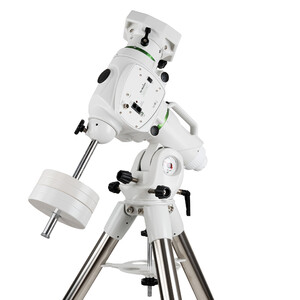 Ergonomic design with bigger twist handles for polar elevation setting and a better polar elevation display, convenient handle for transport, mounting saddle for Vixen or Losmandy standard prism rails.
Latest version of the SynScan hand controller, permanent PEC correction and camera shutter control.
And best of it all: a toothed belt drive! With this new drive system there is no effect known as backlash, i.e. no gear play when changing direction. The mount runs much quieter, with higher torque. All this has a positive effect on autoguiding.
With this new version Skywatcher gives its classic mount a facelift. This way the new EQ6-R will be a standard in hobby astronomy for years to come: the EQ6 just keeps on running…