At the beginning of February, we introduced the latest development from Celestron: Celestron CGX. The CGX now has a big sister. The brand-new  CGX-L mount is able to carry 34 kilogrammes and thus almost 10 kilogrammes more than the CGX.
The large 14 inch optics can thus also be used with the new technology of the CGX-mounts: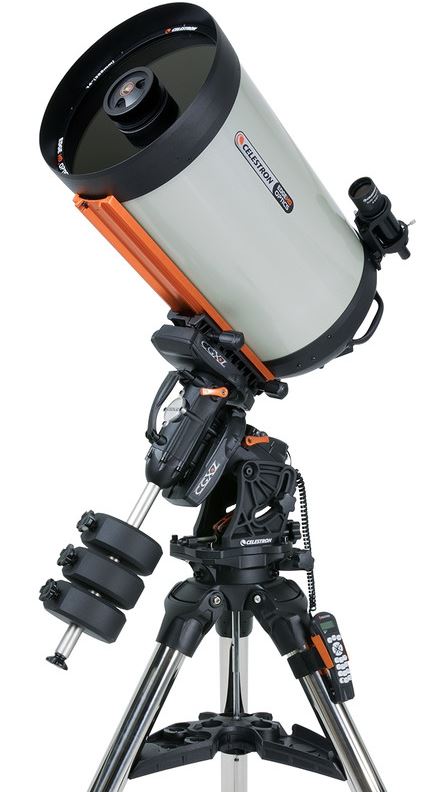 The generously sized 144 millimetre worm gears are an important factor in increasing the load bearing capacity. They enable smooth running, even when carrying heavy telescopes. Apart from this, the dovetail clamps were extended to 270 millimetres, so that large telescopes are also securely held in place.
The illustration shows the mount head with the large worm gear and the toothed belt drive: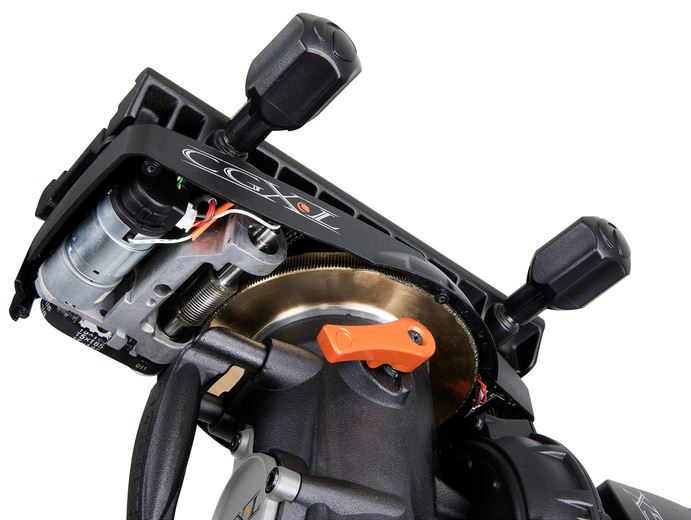 Another positive aspect: Additional AUX ports and the autoguider connection on the DEC-axis ensure a better cable management.
If you intend to use large optics with photo equipment, you need a heavy counter weight. With 31.5 millimetres in diameter, the counterweight shaft has been adequately dimensioned for carrying heavy loads.
Despite the increased load bearing capacity, the CGX-L is still portable. And not only the mount is able to carry higher loads: Celestron delivers the CGX-L with a steel tripod which has been considerably reinforced compared to the CGX. The tripod legs have a diameter of 70 millimetres!
The CGX-L is a universally usable mount, with hardly any limits: You may use it stationary in your garden observatory or transport it to telescope meetings or to your favourite observation location.
We offer the mounts CGX and CGX-L individually. With the dual saddle plate, you can combine these mounts with almost any optics system. But you can also decide on a complete telescope system consisting of mount and Schmidt-Cassegrain optics. You will find these product series under the two links CGX- telescopes and CGX-L telescopes.
No matter whether you decide for the CGX or directly for the larger sister CGX-L, you will receive a modern mount, which will set the standard for the next few years.