Escape Earth!  If you have ever peered through a 100° eyepiece, you know the feeling of observing the cosmos without limits.  It's as if you can find yourself a bit closer to the Universe.
The experience of such a feeling, to observe in such a way, has been made possible with our new  100° Panorama II Eyepieces. For any observer of course remains the question: What performance do these eyepieces offer?
The UK Magazine Sky at Night tested the Omegon Panorama 100° Eyepieces.  To our pleasure, they left an excellent impression!
Sky at Night: "Eyes even wider open"
In the May 2018 issue, the Astronomy magazine Sky at Night wrote extensively, how well the Panoramas have proven themselves in practice and awarded them with 4 out of 5 stars, with the addition of a hearty recommendation!
Two noteworthy quotes:
[… these Omegon Panorama II eyepieces will open up a whole new observing experience.]
[We enjoyed some wonderful views of the Moon and one clear night coincided with the appearance of the Lunar X and Lunar V that stood out stunningly using all four eyepieces.]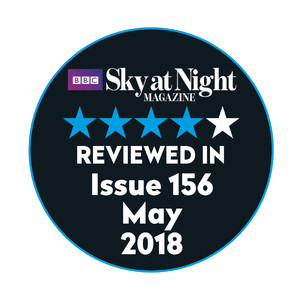 Read the entire article – free download – about the Omgon Panorama II Eyepieces.