An increasing number of telescopes can be controlled with a smartphone. The advantages are obvious: Smartphones offer, with their colour display, touchscreen and GPS mobile, more possibilities and are more intuitive to operate than a classic hand-held controller. The app can be kept constantly up-to-date and the telescope can be controlled wirelessly.
So, the manufacturer, Skywatcher, now offers its azimutal one-arm mount, Star Discovery, without a hand-held controller only. Instead, a Wi-Fi module is included, with which the smartphone can be linked. The telescope can then be controlled with the free SynScan app.
At the moment, Skywatcher is offering the Star Discovery mount with two telescope optics. We can recommend in particular the Star Discovery P1 50i: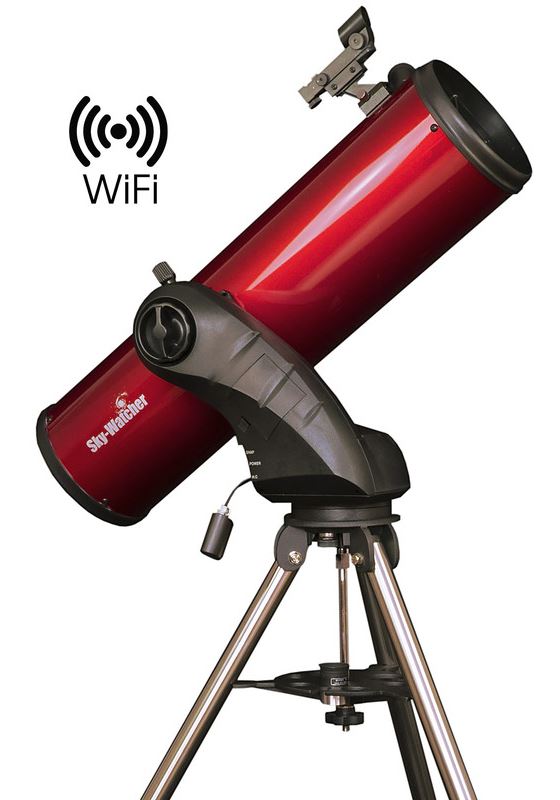 The 150/750-Newton optic of this telescope has proven to be valuable for beginners and can be used in many variants. With a mirror diameter of 150 mm, objects from the Deep Sky guide can be viewed, but it is also a pleasure to observe the Moon and the planets with this telescope! Thanks to the relatively small focal length of 750 mm, the telescope is still very compact and transportable.
Those who prefer to observe with a classic telescopic lens should get hold of a Star Discovery 90i. Thanks to its deep eyepiece, it is especially suitable for children.
Both optics can be removed from the mount by way of a handy screw to they can be transported. The Star Discovery has a classic prism rail connector thanks to which almost any small telescope optic weighing up to five kilogrammes can be secured. The mount is also an attractive option if you already have a telescope.
Take another look in the App Store for the SynScan app. You can get the right telescope from us.