This Omegon 2.1x42mm star field binoculars is a great instrument for observing star fields, extended nebulae and entire constellations. Dennis di Cicco reviewed the Omegon star field binoculars for the astronomy magazine Sky&Telescope.

With a 42mm aperture and a magnification of 2.1x, the star field binoculars are truly remarkable. They offer a new observing experience that was previously not possible with binoculars and telescopes. This is also a reason why Sky&Telescope took a close look at this instrument. Among other things, the magazine liked its simplicity and compactness, the huge field of view, and the deep view of the sky. The author of the review was able to fully capture the constellations of Swan, Orion, Gemini, Wagoner, Perseus and others, as well as some deep sky objects or double stars like Algol.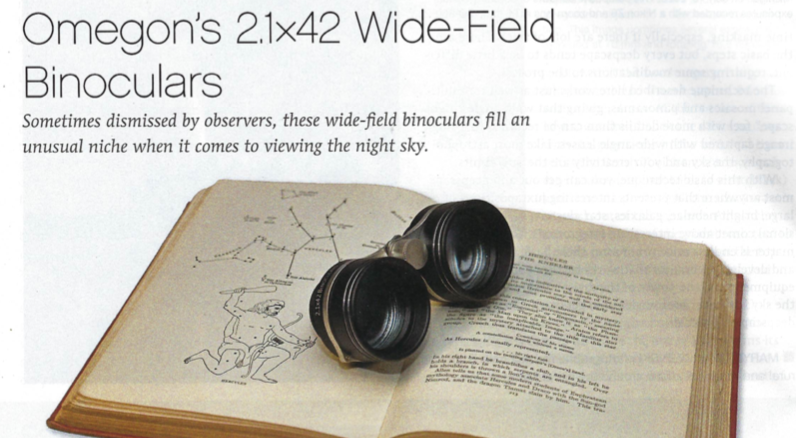 Here are some quotes from the actual review:
Very well made
Excellent aid for learning and enjoying the night sky under less-than-ideal conditions
The Omegon 2.1×42 Binoculars are definitely a joy to use
I was seeing stars more than 1.5 magnitudes fainter in my suburban sky
Whether on vacation or on a hut tour through the Alps, the Omegon star field binoculars make beautiful observations possible even where you have no room for a telescope or binoculars. They also serve as a small observation treat from time to time. There is always a place in the (travel) bag for these Omegon 2.1×42 star field binoculars.