Why EAGLE?
Hardly any other sector of our hobby, astronomy, has experienced such a dynamic development over the last few years than astro photography. But this all comes at a price! If in the past one had to set up a Dobsonian telescope, search the eyepiece bag for the correct focal length and probably also a colour filter, the mobile astronomer of today travels with an "observatory to go": Equatorial mount with heavy counterweights, optics, camera, guiding telescope, guiding camera, laptop and large powerpack. Is there no easier way? The EAGLE control unit makes this possible. It is a computer that is tightly connected to the tube, and it controls mount, camera and guiding camera, centrally supplies electric current, and saves images. You can operate EAGLE wirelessly via WIFI with an input unit of your choice.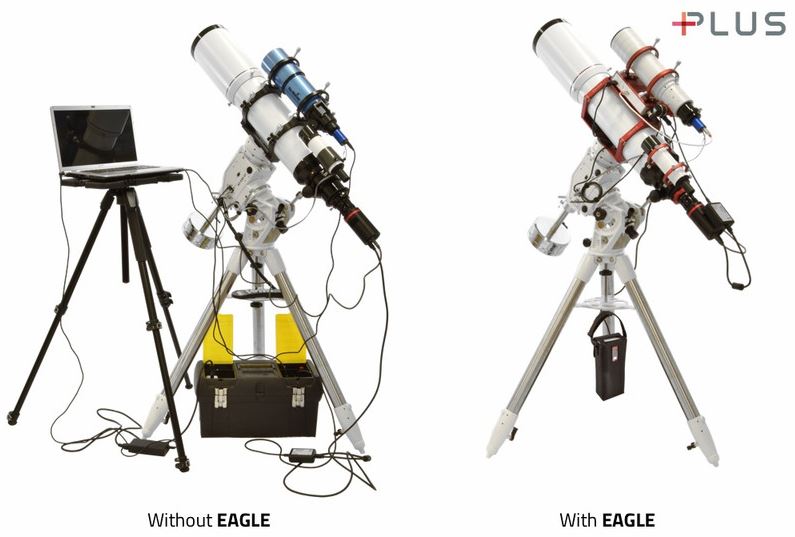 No messy or torn cables
All power and data lines to the mount and peripheral equipment run centrally from EAGLE. This allows the use of short cables and to leave these cables partially connected for a quicker setup. Since the EAGLE computer performs the same tracking movements as the mount, no cables can be wound up or torn off by the mount. You can quite confidently allow your astro photographical equipment to run for hours without supervision. The only cable you need to keep an eye on is the electric power supply cable for the EAGLE. Talking of power supply: Due to the power management of the EAGLE, you only need a smaller Powertank, or you can take photos over an even longer period of time.
EAGLE generates its own WIFI
With the associated app you can use all the programs you need, wirelessly and conveniently from your garden chair. Popular software like PHD2 Guiding are pre-installed. Since the EAGLE runs under Win 10 Enterprise, you can also install other programs. The advantage of EAGLE is the fact that you can control your system with any WIFI-compatible computer and any operating system: no matter whether you use a laptop, tablet or smartphone, and no matter whether you use Windows, Android or Apple. In the field, the WIFI range is approximately 25 metres.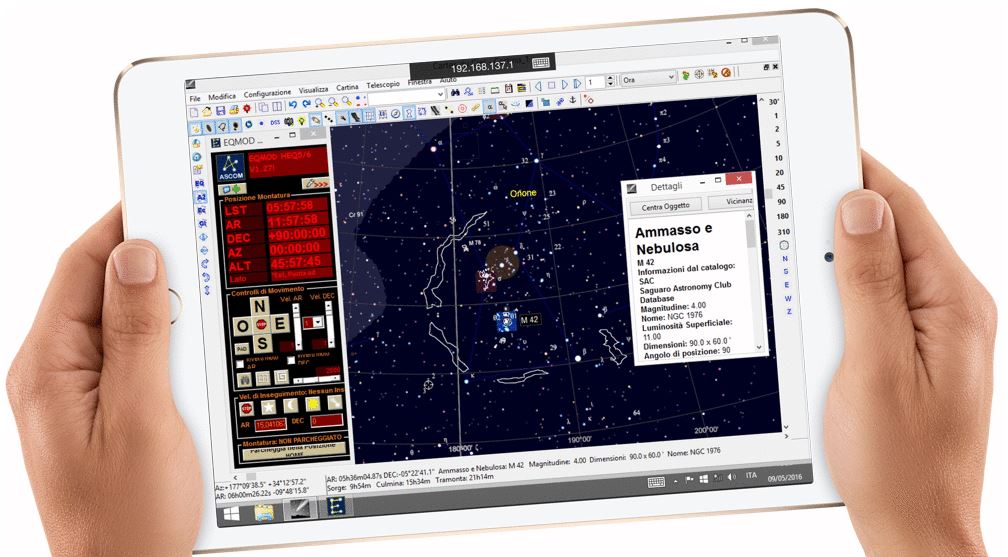 EAGLE saves your photos
You can have the camera images directly transferred to your tablet, laptop or smartphone via WIFI. Since you obviously take a lot of photos which need to be saved without losses, the EAGLE is equipped with an SSD memory card. Saving to a USB stick is also possible. However, there is no possibility to edit any of the photos in EAGLE. The computing power has been designed for low current consumption, which is why EAGLE also works without ventilation.
EAGLE is a fixed part of the system
The EAGLE computer is no additional accessory that you have to carry around. The small, but very stable box can stay mounted to your tube. The best way of installation probably is the installation between the tube and the guide scope rings. However, you can also mount the EAGLE box on the same prism rail that you use to fasten the telescope on the mount. This is recommended if you do not use a guiding tube. On our EAGLE product page you can see examples for this.
There is nothing you can't do without the EAGLE control unit. However, anyone who is actively involved in astro photography on a regular basis and now and again likes to travel to good star gazing locations or telescope meetings, will quickly appreciate the EAGLE: no cable problems, no computer crash, a stable power supply, a compact system.
There is also a more powerful version available, which has been designed for large mounts and observatories: EAGLE Observatory.