You do not need very much to be able to take long exposure photos of the night sky. Even with a system camera or a DSLR with interchangeable lenses you can take photos of large regions of the sky, such as constellations, special constellations of the Moon and planets or even the belt of the milky way.
All you need besides the camera is just a little piece of accessory to be mounted between tripod and camera. This accessory, referred to as camera mount, makes your camera rotate with the starry sky. This makes sure that stars will not appear as dashed lines after a longer exposure time. The SkyTracker from iOptron is the mount that has set standards. This narrow and light piece of accessory fits into any photo bag – ideal also for travelling!
With the Sky Tracker Pro, iOptron now launches a new version of this popular camera mount: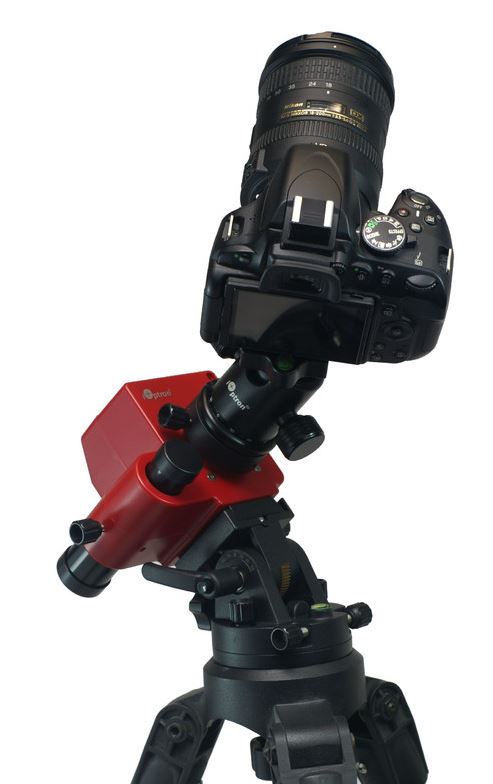 You no longer need any batteries! The integrated powerpack can be simply charged via your computer or via a mobile power supply, sufficient for approx. 24 hours of operation. You can obviously also use a Powertank to supply the Sky Tracker Pro continuously with electric current via USB.
The polar finder for aligning the equatorial wedge (Alt-Az base) with the North Star is illuminated with eight selectable brightness stages. A rough alignment is made through a peephole and a height scale on the wedge.
The equatorial wedge is mechanically considerably more stable than the classic SkyTracker. It has a large height adjustment wheel with a non-slip clamping lever and adjustment screws. The wedge can be separated from the tracking unit. This way it may stay on the tripod and the SkyTracker Pro can be simply plugged on.
You can choose from four speeds: stellar, solar, lunar and 0.5-times. Half the stellar speed is quite useful if you want to photograph landscape details in the foreground together with the stars.
Due to the reduced tracking speed, these elements remain sharp. By the way: You can also reverse the sense of rotation of the motor, so that the SkyTracker Pro also works in the Southern hemisphere.
With a weight of slightly more than one kilogram and dimensions of 12 cm x 12 cm x 10 cm, the SkyTracker Pro is quite compact, despite its high quality mechanics, and will surely fit into your travel luggage.
Besides the tripod, you also need a ball head in order to use the SkyTracker Pro in the most effective way. Since many photographers already have a ball head in their possession, it is not included in the scope of delivery of the SkyTracker Pro. Under the "Recommended Accessories" tab on the SkyTracker Pro product page you will find a highly suitable example.
By the way: At Astroshop.eu we also offer astro modified system cameras. These cameras are highly sensitive in the red range of the spectrum and enhance the image quality of cosmic nebulae.