ASI 1600 MM series cameras from ZWOptical have really found their place in astrophotography. With its small pixels, the highly sensitive CMOS sensor offers high resolution, and this even in connection with a relatively big sensor diameter.
We now offer the cooled black and white camera of the ASI 1600 series in a set with a motorized filter wheel and suitable filters: ASI 1600 MMC DeepSky-Imaging-Set for a price of 2,019 Euro. You save 29 Euro when compared with individual prices!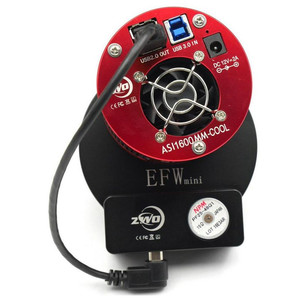 A camera with active cooling is optimal for taking photos of nebulae and galaxies, because the cooling reduces sensor noise and thus enables long exposure times. This enables you to even take photos of very faint objects in the sky.
Even though the cooled ASI 1600 is available as colour or black and white camera, only the black and white camera offers the full resolution of the sensor. Ambitious photographers therefore favour this variant. In order to show the colour of the celestial object you just simply take photos through three colour and one luminance filters – the latter to increase brightness. The computer then uses these four images to produce a colour image (L-RGB method).
The filters are placed into a filter wheel, so that the camera does not have to be removed and realigned again for each filter change. The filter change simply takes place by turning the wheel. The filter wheel in the Set with the ASI 1600 is electrically powered and controlled via the camera, meaning you do not need an additional cable connecting to your computer. You simply use the camera control to change from one filter to the next, and this, above all, without having to touch anything.
The four filters in the DeepSky-Imaging-Set were specially developed for the ASI 1600. The colour weighting has been optimized for its sensor, which in this case is a high-quality interferential filter. Since the filters are parfocal to one another, the focus position does not change when changing the filter. Besides the three filters for the red, green and blue channel, the set also contains an UV/IR band-rejection filter for luminance.
Just as the graph concerning the filter transparency (transmission) of the set indicates, the filters block out the disturbing light of many street lamps, but are highly sensitive in the red range of the H-Alpha and SII-line. The transmission rate is greater than 92%.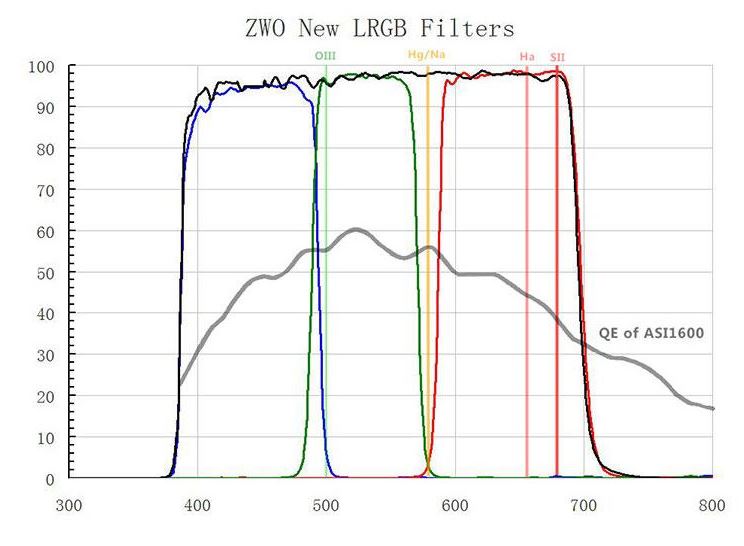 With the ASI 1600 MMC DeepSky-Imaging-Set you receive a high-quality, yet reasonable, camera system with almost unlimited possibilities!