The American manufacturer Lunt Solar Systems offers low-cost telescopes and filters for solar observing – only while stocks last!
A compact entry-level model that is already equipped with the pressure tuner (PT) found on the large models, and can be retrofitted with an additional H-alpha filter, namely the
This filter is screwed to the front of the telescope's objective lens. This configuration, known as a double-stack, reduces the full width at half maximum of the H-alpha spectral line. The chromosphere and prominences are thus visible with higher contrast.
The Sun can be observed not just in the light of the H-alpha spectral line. An interesting alternative is the much shorter-wave Ca-K line.
For this purpose, Lunt offers special modules for retrofitting to refractor telescopes:
Also on special offer: Two eyepieces for solar observing:
The two eyepieces have the same coating as the Lunt Solar Systems etalon filters. This reduces effects such as ghosting and provides a darker background compared to  normal eyepieces.
Not just spectral lines: for observing the surface of the Sun (the photosphere) over the entire spectral range, Herschel wedges, which are also called Herschel prisms, are particularly suitable. The very well-proven Lunt Herschel wedge is also on special offer: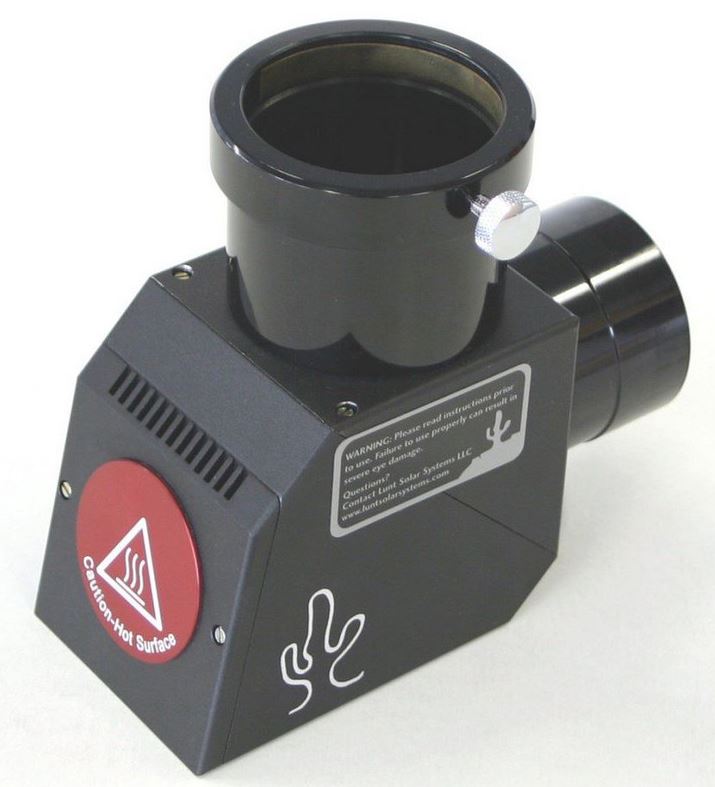 Herschel wedge with ND3.0 grey filter LS2HW 2″
Herschel wedges are simply attached to the eyepiece and have an eyepiece connector on the other end. However, they are only suitable for refracting telescopes (refractors) and must never be used with any other type of telescope!
Take advantage of these offers from Lunt Solar Systems for your introduction to solar observing!