Every year gingerbread is the harbinger of Christmas in every supermarket. Here at Astroshop the Hyperion eyepieces play this role. With immediate effect these high-quality eyepieces from Baader-Planetarium are now available at a particularly reasonable price – and this even until after Christmas!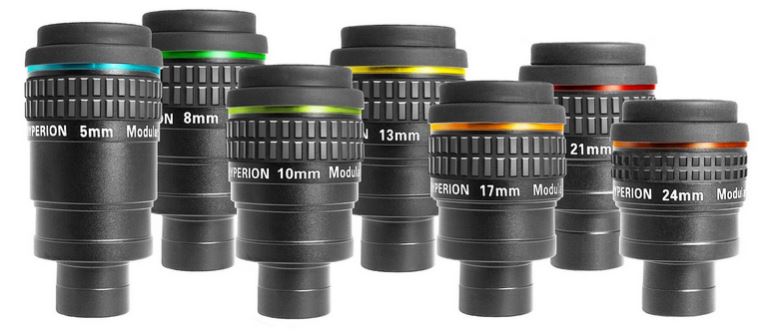 With their field of view of 68° the Hyperion eyepieces belong to the product range of wide angle eyepieces. With these eyepieces you can look at the stars, relaxed and without tunnel vision. The Baader Phantom Group Coating™ ensures high transmission, especially in the spectral range to which the human eye is particularly sensitive. The Hyperion eyepieces can be used in dual mode: They are suitable for both a 1.25-inch and a 2-inch focuser.
In astro photography the Hyperion eyepieces are particularly popular. The eyepiece cup can be removed and leaves a thread that offers a vast amount of connection options. Each eyepiece includes a selection of adapters as part of its accessories range.
We offer all Hyperion eyepieces at a special price: Each eyepiece for 120 Euro You save 25 Euro per eyepiece!
Just choose one of the seven focal lengths
or just order the complete eyepiece set for 785 Euro. You save 90 Euro!
During this promotional period, each eyepiece comes with a free eyepiece cup with glare protection.
This offer ends on the 31st of January 2019. Just add the eyepieces to your wish list!