The SkyTracker Pro from iOptron is one of the most popular camera mounts. This handy unit tracks photographic equipment of up to three kilograms in weight to follow the rotation of the sky. This allows you to take panorama shots of the night sky with long exposure times.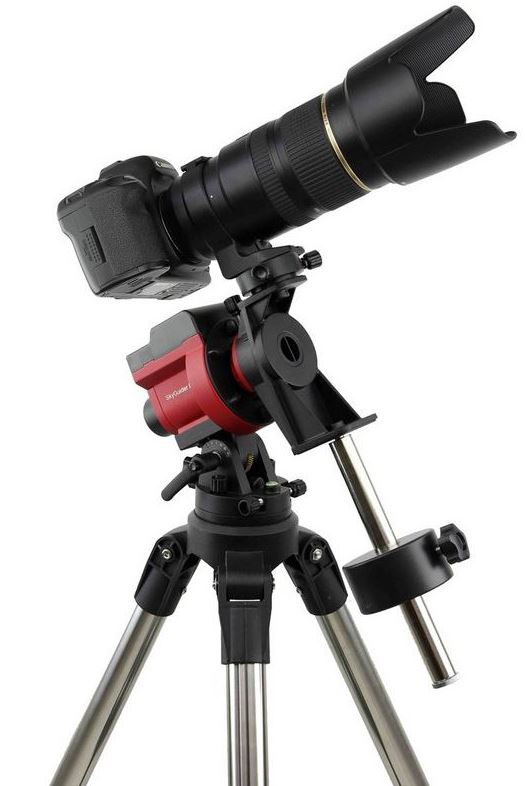 The new SkyGuider Pro from iOptron can even carry up to five kilograms of photographic equipment. This is easily sufficient for a small telescope, such as the Photography Scope with camera. The scope of delivery already includes a mounting plate for small telescopes.
The scope of delivery also includes a counterweight for balancing the photographic equipment. This provides stability and takes pressure off the rotation axis.
However, you can also install a second camera with up to three kilograms in weight instead of the counterweight. This way you can take photos of the same sky area, but with two different focal lengths.
Alternatively, you can use the second camera as an autoguider.
On the product page for the iOptron Mount SkyGuider Pro you will find an illustration showing the vast variety of applications for this camera mount.
In addition to the counterweight, the scope of delivery of the SkyGuider Pro includes almost everything you need. The only thing missing is a tripod and a ball head might also make sense. Both these articles can be found under the tab "Recommended Accessories" on the product page.
The SkyGuider Pro comes with a power pack which can simply be recharged via USB. There is hardly any mount for sky photography available for use with photographic equipment of up to five kilograms in weight, that is more light-weight or more compact. As with other mounts from iOptron, the SkyGuider Pro also offers a satisfying, solid mechanical design. We are convinced that this new camera mount will meet your approval!