The Omegon MiniTrack LX2 is the world's first fully-mechanical photo mount for wide-field astrophotography.  With just a simple twist, you can capture amazing photos of the Milky Way.  This year the LX2 has received the much coveted astronomy award "Hot Product 2019" that the magazine Sky & Telescope awards annually to especially innovative products.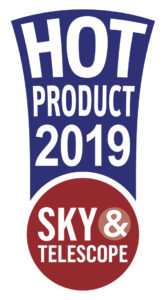 The Omegon Mini Track LX2 (or the set with the photography ball-head) makes a great gift for beginners and nature photographers, who would like to capture the night sky along with an amazing landscape.  If you have already tried with traditional means, but have not been satisfied with the results, the Mini Track LX2 is much simpler.  The proof is easy to see, if you look at the many amazing photos take with the LX2 and posted on social media.

More info about the Mini Track LX2 mount is available here. Gift-giving during this holiday season will be a piece of cake with the Mini Track LX2.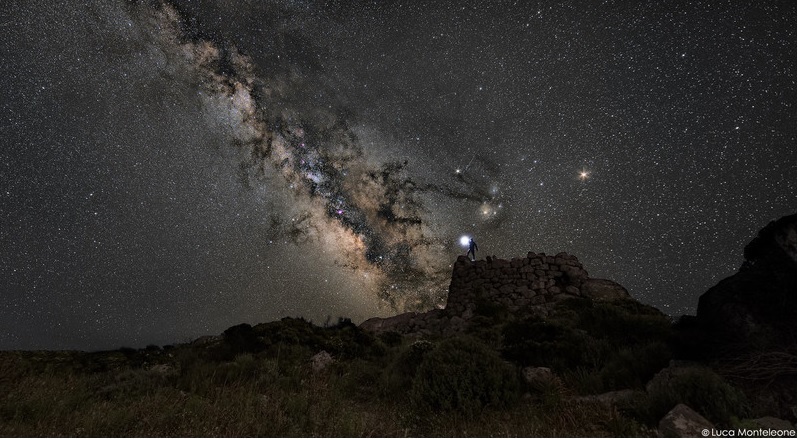 Below, you can read up on other, special products in our assortment, which have also received the "Hot Product" seal of approval:
The Mead Deep Sky Imager IV
The new and improved Planetary and Deep Sky Camera from Meade has convinced reviewers.  With a 16 megapixel Panasonic CMOS-Sensor, thermoelectric cooling, USB 3.0 and 3.8 µm pixels, the camera is a strong multi-use device for astrophotographers, who want to limits in their photography.  The new Deep-Sky-Imager IV is available in color or monochrome.  The software SkyCapture makes other programs superfluous and you can use if for all your photographic purposes.  The software runs on Windows and MacOS, as well as Linux.
Hubble Optics N 607/2012 UL24 f/3.3 Premium Ultra-Light DOB
"BIG DOB TO GO" is the moniker Sky & Telescope gave to the huge 24" Truss Dobson from Hubble Optics.  And for good reason.  The telescope can be broken down into individual pieces and transported in even the most compact vehicles.  Just imagine taking a telescope, as big as in many observatories, to the mountains or to a nice dark pasture.  You are sure to have quite the stargazing experience!
Celestron Telescope Astrograph S 203/400 RASA 800 OTA
A digital Schmidt Camera for wide-angle photos!  The Celestron Astrograph RASA takes photos 20 times faster, than a Schmidt-Cassergrain Telescope.  The results are awe-inspiring photos of large-scale celestial objects. In 30 seconds, you can capture, what would require 10 minutes with a f/10 telescope.
iOptron Mount CEM120 GoTo
The heaviest mount from iOptron can handle instruments up to 52 kg and is fully LAN and Wifi remote capable.  In spite of its size, the mount moves smoothly like a hot knife through butter.
Daystar SS60-DS Solar Telescope
A compact solar telescope with 60mm aperture for safe solar viewing in H-alpha.  Daystar integrated a double stack Etalon Filter from the QUARK series into this refractor, which meanwhile has written a little success story of its own in solar observing.  Here, you get everything in one package, with which you can see solar protuberances, filaments and flares – everything that raises the pulse of a solar observer.  Attaching a camera to the helical focuser and you can capture your observations for good.
Celestron Smartphone Adapter
The easy way to connect your smartphone to your telescope with the Celestron Smartphone Adapter, which can be adjusted with precision on three axes.  Now you can easily position your smartphone's camera over the eyepiece.
Lunatico Pocket CloudWatcher
The Pocket CloudWatcher keeps an eye on the clouds on your behalf.  This weather and cloud detection device, which alerts you, when something changes in the sky.  The mobile CloudWatcher measures temperatures, brightness, relative humidity, dewpoint and alerts you immediately on your smartphone, when clouds move in.  The perfect gift for astrophotographers.
A few years ago, but still a great device:
Hot Product 2017: Universe2go
This AR Planetarium, which shows you and simultaneously explains the night sky.  There is no need to spend your time with star charts and books.  Universe2go is like a visit to the planetarium, but all in a handheld viewer that augments your reality.  Just download the free app, put your smartphone into the viewer and look up into the night sky.  The magazine Sky & Telescope was so enthusiastic about Universe2go that it received the Hot Product 2017 Award.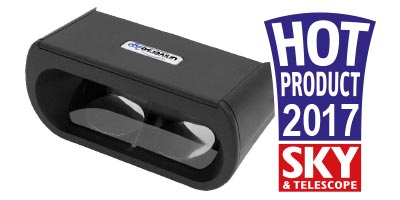 Omegon Handheld Planetarium Universe2go
The advantages?
Your impression of the real starry night sky gets an overhaul with a superimposed digital picture.
Learn about all 88 constellations and numerous celestial objects
Where are the planets? With Universe2go, you can find them all!
Over 3 hours of audio explanations, which will make you an expert of the night sky.
Many more features!
In the current issue, Sky & Telescope introduced many more products in the Hot Product category.