Product series:
Telescope accessories:
Astrophotography:
Mountings & accessories:
Photo Tripods: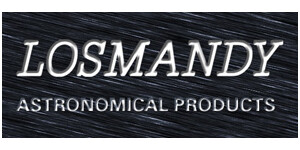 Since 1981 the Losmandy brand is know first and foremost for dovetail plates and clamps with wider support surfaces including the Losmandy design and the equally common Vixen standard, all of which can be found in our product range. The wide plates established by Losmandy are almost standard, especially for optics in excess of 8". A wide range of corresponding prism clamps and saddle plates are also available from Losmandy.
The Los Angeles-based company also offers robust and high-quality mounts, for example the G11T together with the associated tripods and a variety of hardware such as tube clamps, adapter plates, counterweights, screws and tripod extensions.