The Omegon Advanced 150/750 EQ-320 telescope is a popular instrument offering an introduction to the exciting hobby of astronomy. With a new, large focuser, you can now even use 2″ eyepieces. For stunning observing and almost limitless views of the cosmos.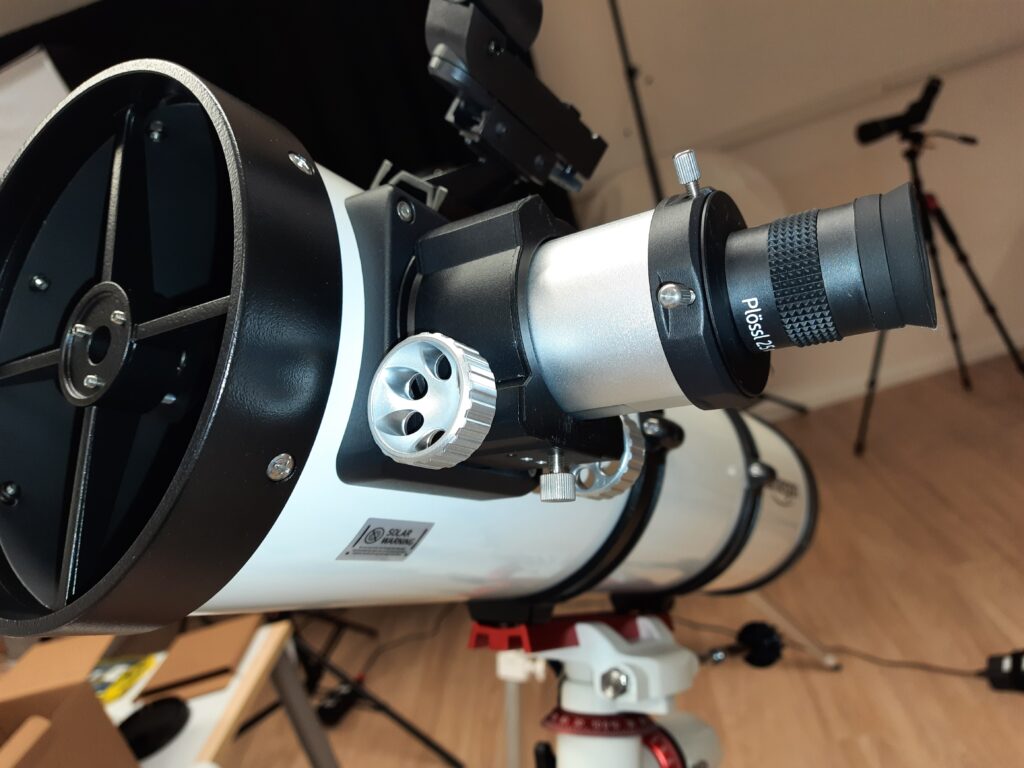 Until now, observers using the Advanced 150/750 EQ-320 have only been able to use 1.25" eyepieces and accessories, but with the new 2″ Crayford focuser (patent pending), you will literally grow your horizons. This gives you the freedom to choose the eyepieces and accessories you want to use.
These are advantages the focuser offers:
With the 2″ eyepieces available in our shop, you can reach a larger area of the sky than is possible with 1.25″ eyepieces. For example, you can capture full-size large nebulae or enjoy seemingly never-ending vast fields full of stars. It also makes it easier for you to find objects. In short, a 2″ focuser is a blessing for deep-sky observers who want to experience the skies as if through a panorama window.
What if you complement the standard 1.25″ eyepiece, as supplied, with a  2″ eyepiece? The Omegon SWA 32mm 2″ eyepiece offers a fantastic image and a real wow-effect for deep sky observing.
Smooth mechanics for precise focusing
Such large focusers are quite unusual for a 150mm Newtonian telescope. However, our development department wanted to ensure that even owners of medium and compact telescopes could benefit from wide-angle eyepieces. In contrast to a normal geared focuser, the new 2″ Crayford focuser with ball bearings runs totally free of play. This allows you to focus your object smoothly and with high precision.
The advantages of the Advanced 150/750 EQ-320:
Experience sharp and clear objects: with the parabolic primary mirror
2″ Crayford focuser (patent pending) for 1.25″ and 2″ eyepieces: you can connect additional accessories at any time – even from other manufacturers
Equatorial mount: so that you can precisely track celestial objects
Trouble-free start in the sky: complete telescope with two eyepieces
Find objects easily and successfully with an illuminated LED finder
Immediately recognise stars, planets and nebulae – even if you're an absolute beginner
The Advanced 150/750 EQ-320 telescope is available with immediate effect with a 2″ focuser.